THE LOOK OF A LEGEND
THE SPIRIT OF THE FUTURE
There are visionary plans whose appealing radiance reaches far beyond the present. Their language of forms has shaped the taste of generations. The Global Tower is just such an architectural legend, starting out on its exciting route towards the future.
THE TRANSFORMATION OF AN ICON
The Global Tower, located right in the midst of the Frankfurt CBD, is an important contemporary witness of German high-rise architecture. Now this building has undergone a complete refurbishment, consistently focussing on the demands of discerning urban tenants and the business world of tomorrow. The result: a platform for encounter, quality of life, atmosphere, growth, inspiration, and communication.
Year of construction: 1974 (Richard Heil)
Architecture: 1994 (Sir Norman Foster)
Architectural Refurbishment: 2017 (holgermeyerarchitektur)
30 floors
approx. 30,000 sqm of office, restaurant, and event surfaces
Architectural icon in a prime landmark location in Frankfurt am Main
Direct proximity to attractive leisure time, restaurant, service, and shopping facilities

Two-floor lobby, restaurant and event surfaces and Global Forum

State-of-the-art technical equipment and high noise protection and spatial acoustics qualities
State-of-the-art energy standard and top sustainability certification

Smart heating/cooling ceilings, mechanical ventilation plus opening windows to ensure a pleasant room climate
Premium office surfaces with state-of-the-art equipment and spectacular views
Eight elevators with targeted controls and individual guidance plus one freight elevator
One of the first high-rise buildings in the CBD to receive a WiredScore Platinum Certification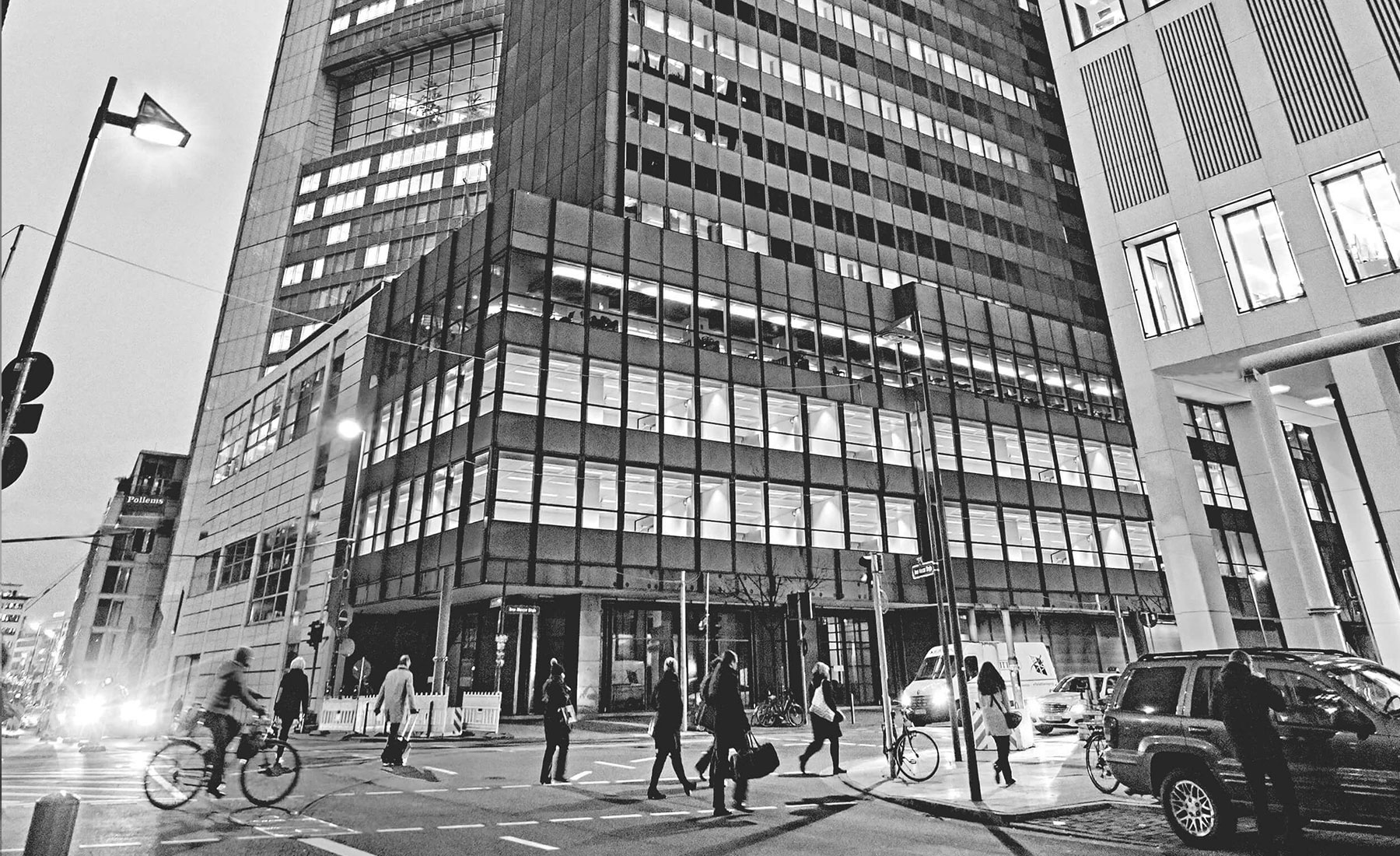 MACRO- & MICRO-LOCATION
Location
WELCOME TO THE INNER CIRCLE
In the vicinity of the Global Tower, in the midst of the Banking District, there's an agglomeration of pulsating city life, exciting new developments in Frankfurt, as well as classic points of attraction. Top hotels, a variety of international restaurants, lifestyle and shopping, fitness and culture – everything in walking distance. The perfect public transport connections ensure quick transit to the airport, to the main train station, and to the trade fair grounds.








GEG German Estate Group GmbH
Neue Mainzer Straße 2 – 4
60311 Frankfurt am Main
T +49 (69) 274033-0